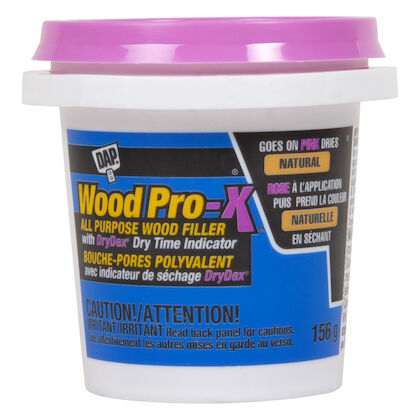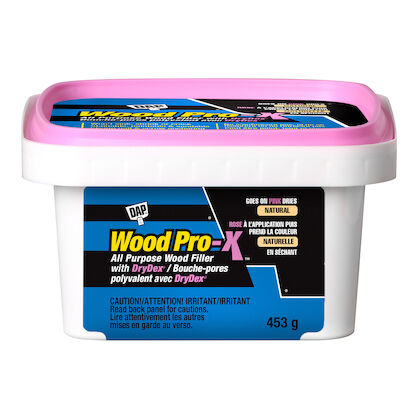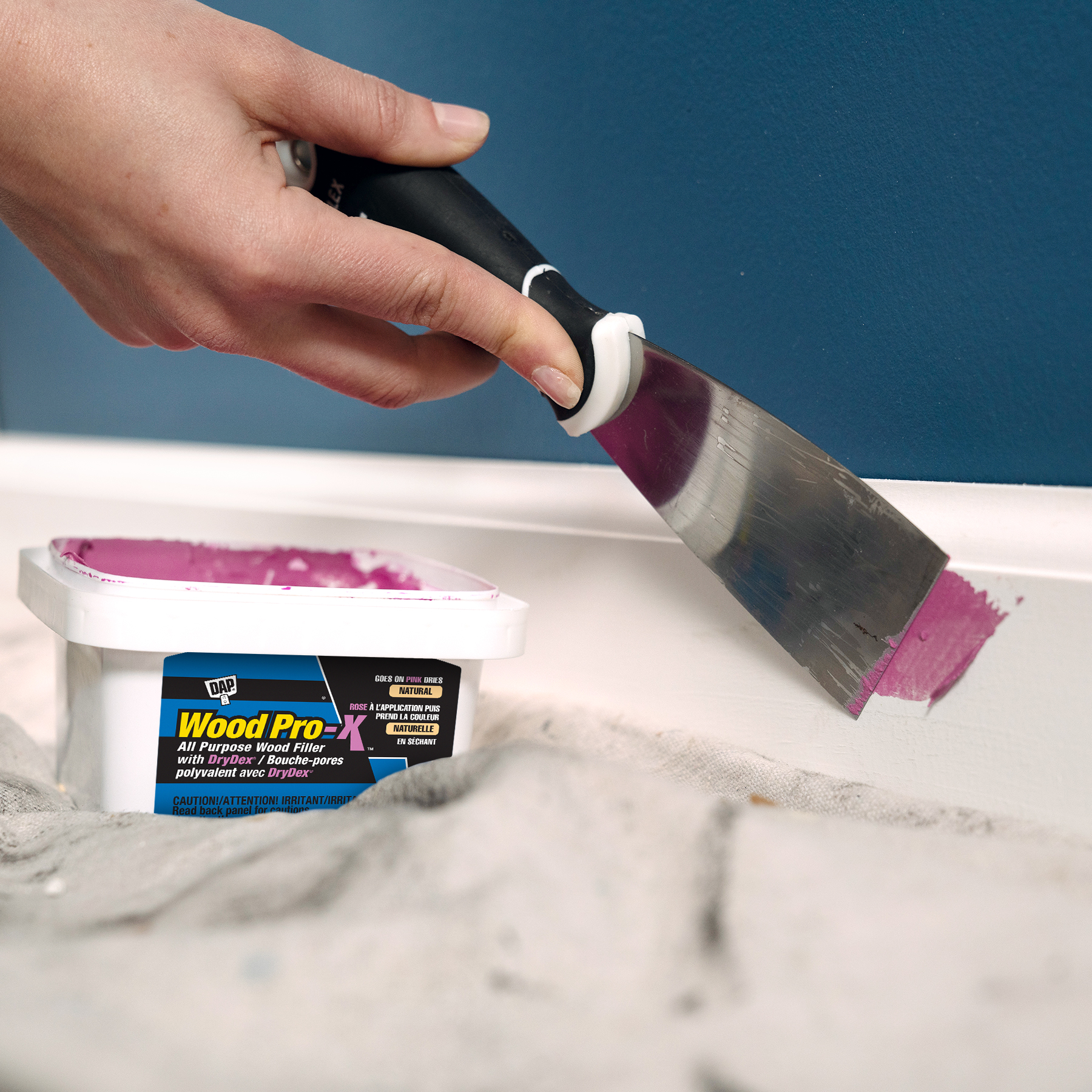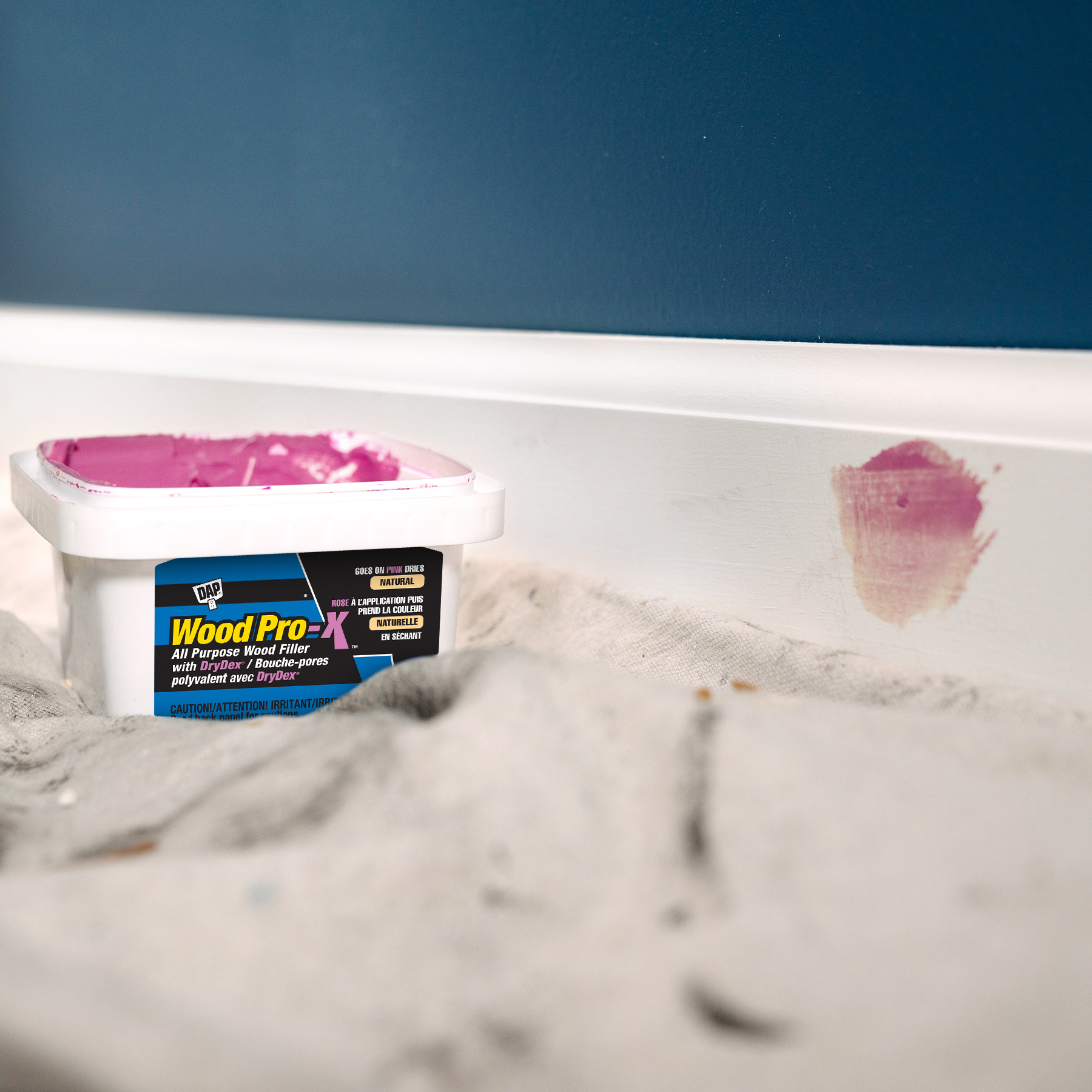 WOODPRO-X™ Wood Filler with DryDex Dry Time Indicator
Best For:
DAP® WOODPRO-X™ All Purpose Wood Filler with DryDex Dry Time Indicator goes on pink and dries natural for an invisible repair. It is a high quality, latex-based wood filler formulated to create a surface and body that looks and acts like real wood. It can be used to repair cracks, gouges, holes and other surface defects on furniture, woodwork, moulding, cabinets, panelling, plywood, windows, doors and painted surfaces. This easy-to-use filler is low in odour and cleans up with water. The thick, knife-grade formula can be moulded and sculpted making it ideal for corners, vertical and unsupported surfaces. It offers easy handling by spreading smoothly and evenly. When dry, DAP® WOODPRO-X™ All Purpose Wood Filler can be sanded, cut, planed, drilled, nailed or screwed, stained and painted. It is shrink, crack and crumble resistant and provides strong nail and screw anchoring. Interior /exterior use.
Key Features
Dry Time Indicator

Easy Water Clean Up

Won't Shrink or Crack

Durable Finish
Specifications

| SKU | Code | Unit Size | Color | Dimensions (in.) | Weight | Case Pack | Cases/Pallet |
| --- | --- | --- | --- | --- | --- | --- | --- |
| 7079874285 | 74285 | 156 G | NATURAL | 6x6x6 | 3.4 lbs. | 8 | 336 |
| 7079874287 | 74287 | 453 G | NATURAL | 12.875x8.625x5.2 | 13.68 lbs. | 12 | 144 |
FAQs

Where should I use Plastic Wood All Purpose Wood Filler?

Use it to fill any holes, cracks, gouges or scratches on wood for interior or exterior repairs. Wood filler cures to a hard, solid finish like wood. Do not use it to fill joints between wood where a soft, flexible product like caulk should be used.

How do I tell if it is dry?

With Plastic Wood-X, as soon as the color of your repair is completely natural and you don't see any pink tones, it is dry.

How long do I have to wait to stain or paint my repair?

It can be stained or painted with latex paint immediately after sanding the cured repair. Wait until 12 hours after sanding to paint with oil based paint.

How do I build up a broken corner?

Plastic Wood All Purpose is moldable and sculpt-able. Build it up in multiple layers, allowing each to dry and sanding between each layer.
description
Find Resources
Find what you need for your next job or project.
Search Resources
person
Customer Support
Our team of highly trained customer support staff is here to help with either product or project advice.
Contact Us